Colored Red Leather Goods
Regular price
Sale price
$8.99 USD
Unit price
per
Sale
Sold out
A Traditional
Leather Conditioner.
Nature's original leather conditioner made from tallow and other natural ingredients. Good for Leather, Good for You.™
Colorado Leather Balm: Nature's original leather conditioner traditionally made from all natural beef tallow.    Tallow is PH balanced for your leather because it is the original fat of the leather.  Leather (usually) comes from cows, so does tallow.  Tallow and leather go together like peas and carrots, peanut butter and jelly, ham and cheese...well, you get the picture!  Tallow absorbs beautifully into the fibers of your leather, and also acts as a water repellent.  (Every tried to mix water and fat? Not gonna happen....)  Tallow is still often used in the tanning process called "fat liquoring," so Colorado Leather Balm really is replenishing the fats lost in tanning and also over time as your leather dries out.  Tallow is also molecularly very similar to our own skin's moisturizers, so it's not only healthy but excellent for use on skin, as well as safe around pets and children.  No yucky mystery chemicals in Colorado Leather Balm!  Good for Leather, Good for You™.
Use Colorado Leather Balm on boots and shoes, saddlery and tack, handbags, belts, holsters, leather clothing or older, dry leather luggage, furniture or leather car upholstery.   Not appropriate for suede or nubuck leathers. If in doubt, test it out!

Colorado Leather Balm comes in two scents- Orange-Vanilla and Citronella. Orange-Vanilla is a pleasant, light smelling scent that is a good fit on any leather item. Citronella scented CLB is a better fit for leather used outdoors or anywhere that pests are a concern, including insects and animals, as well as having powerful antibacterial/antifungal properties. Citronella is Colorado Leather Balm's recommended scent for saddlery and tack. 
Ingredients: Beef Tallow, Lanolin, Bees Wax, Essential Oils. 
Directions for Use: Clean leather using a damp cloth rinsed in warm water with a few drops of dish soap (not glycerin based soap- it does not have the right PH balance for leather). When the leather is still slightly damp but clean, scoop a bit of Colorado Leather Balm out with your fingers and massage into your leather. The heat from your hand helps get Colorado Leather Balm deeper into the leather fibers and it's also a great skin conditioner for YOUR skin.  Bonus!  Continue with applications until leather is saturated and does not absorb any more balm. For best results, let sit at least an hour or overnight, then take a clean rag (microfiber or an old washcloth both work great) or a soft bristled brush, and gently rub or buff leather until surface has a deep gleam, is smooth to the touch and no longer tacky. Because CLB absorbs so well, buffing your leather is fast and easy to get that deep luxurious gleam!  Before you buff out your leather, you might see some white residue- this is just extra balm on the surface- it will wipe right off. For especially dry leather, this entire process can be repeated multiple times. Note: This product will likely DARKEN leather, as it deeply nourishes, conditions, and protects it. Take special care when conditioning carved or tooled leather or seams- the balm can get stuck down in the carved areas and be difficult to remove later. If you do get balm down in seams or tooling, an old tooth brush works great to get it out. Lastly, a little goes a long ways! 
Share
View full details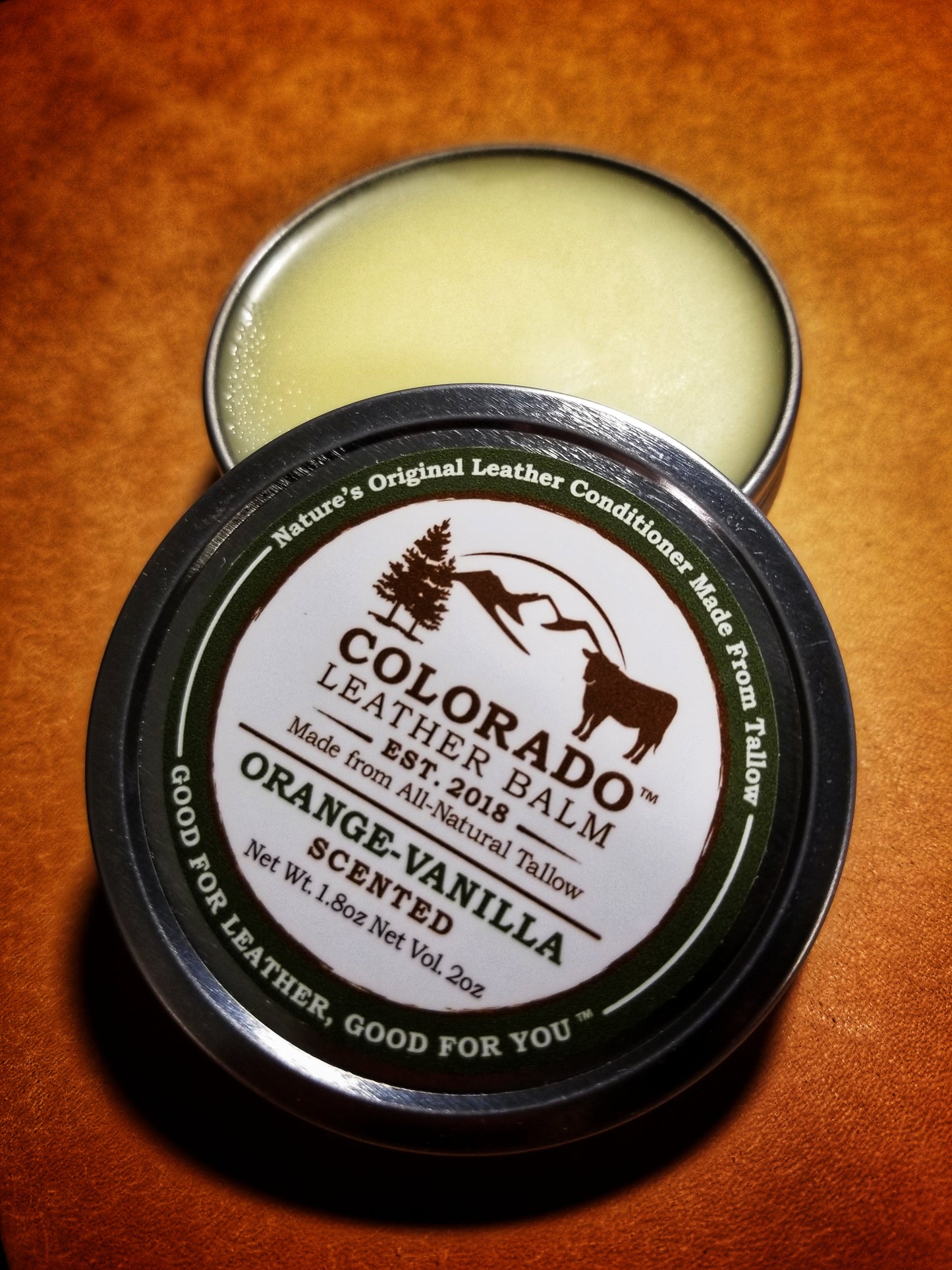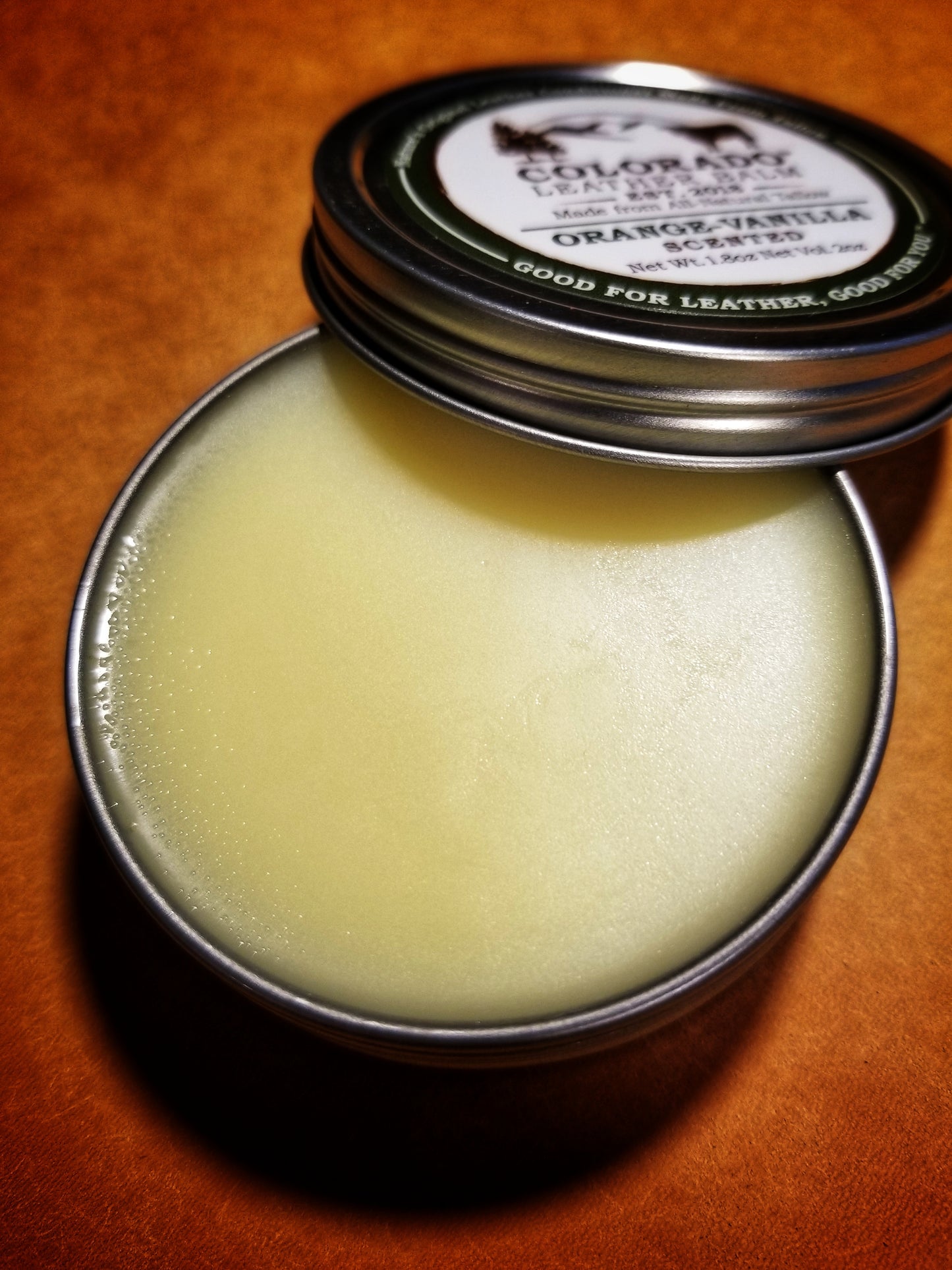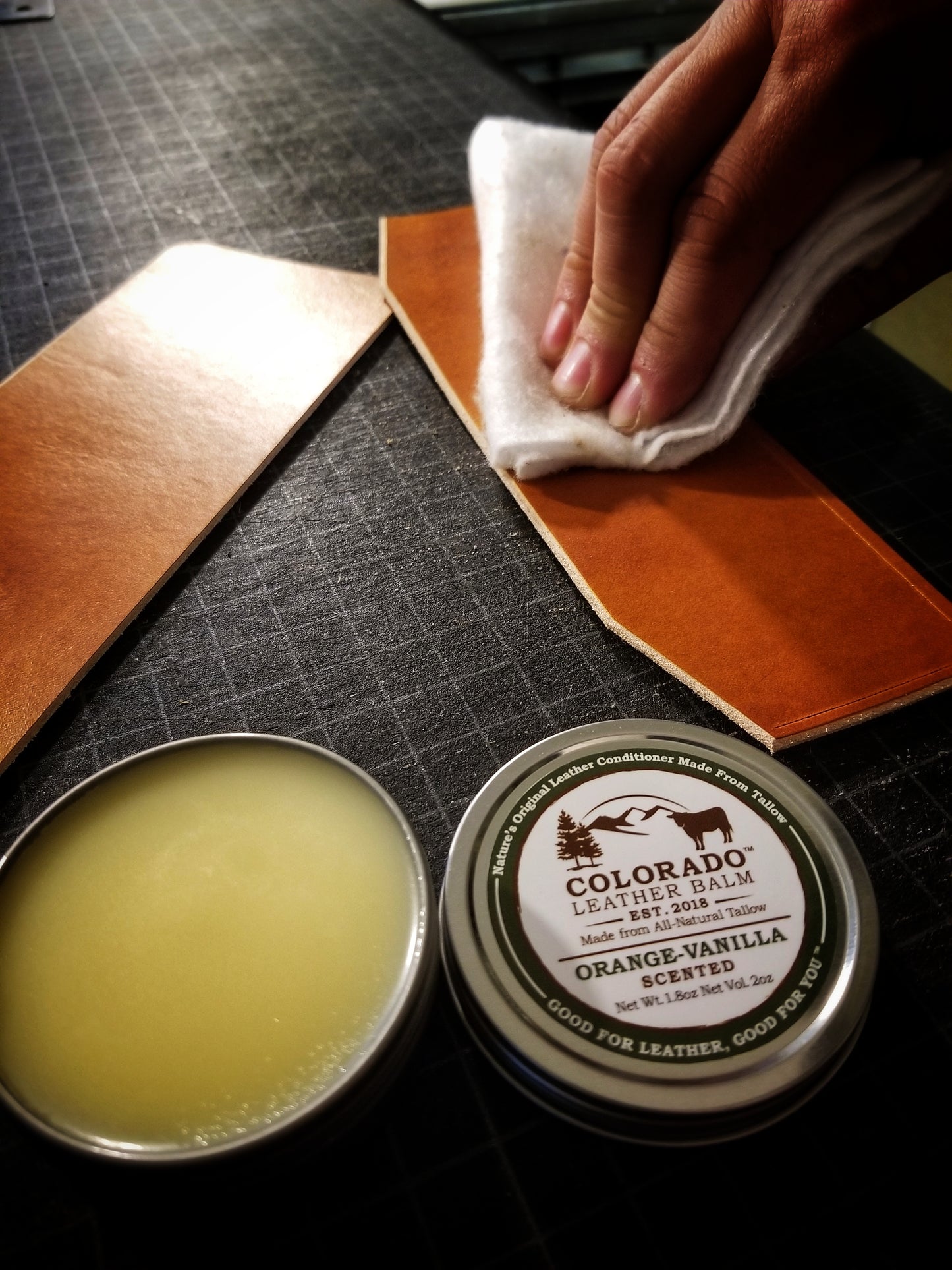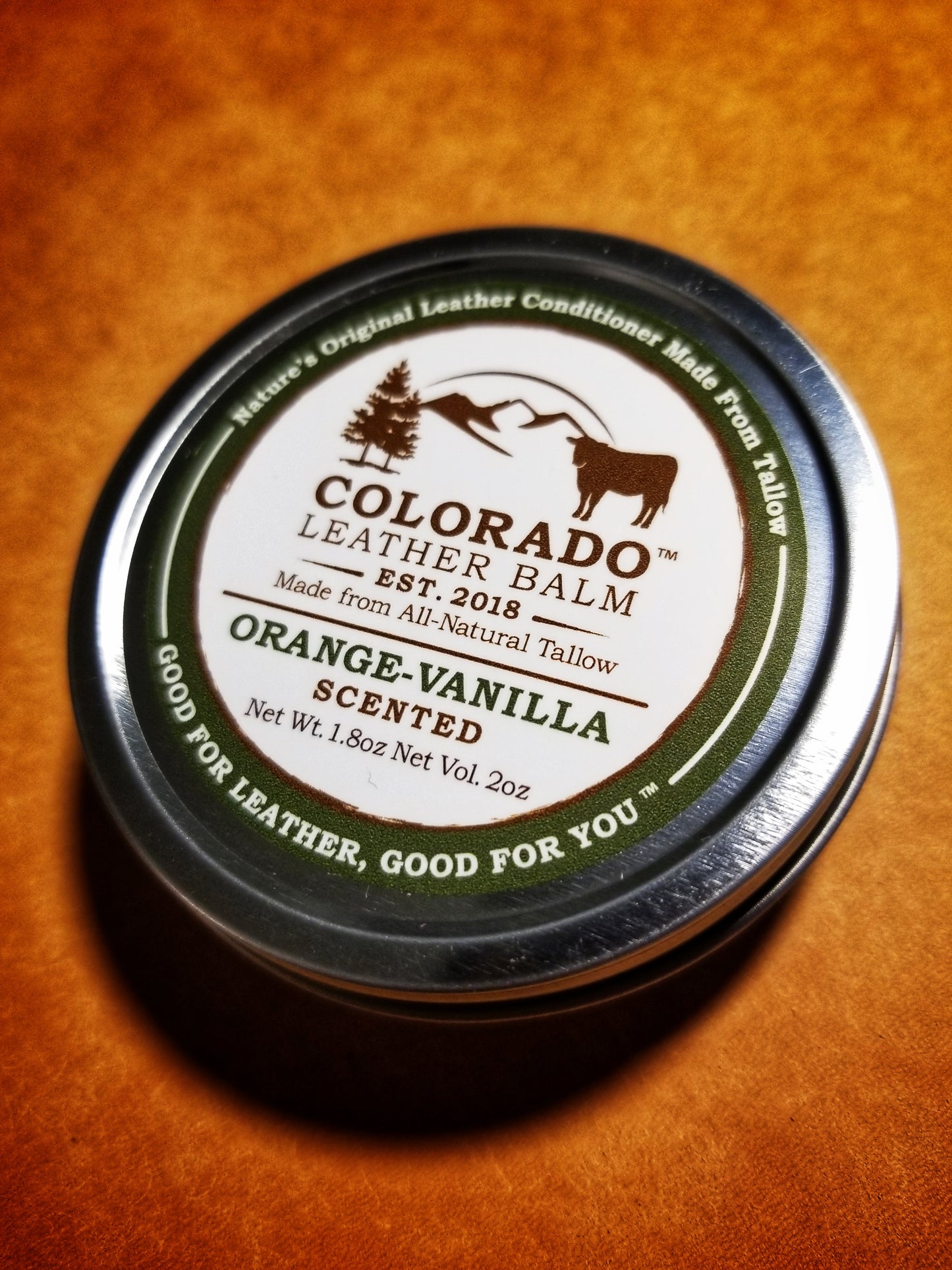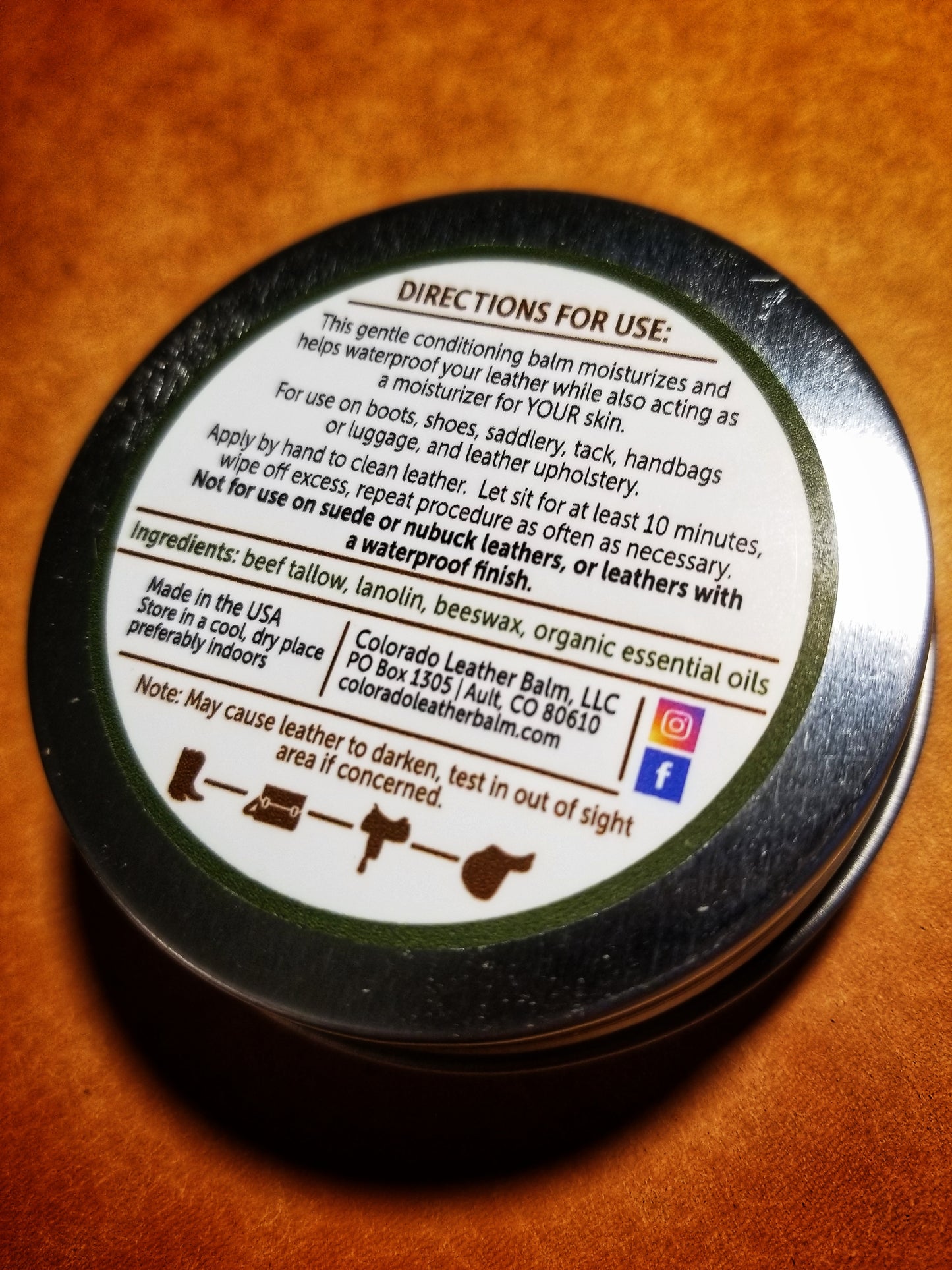 Happy leather
I got the leather conditioner and it has worked wonders on my boots! They're much happier now. There was a little snag as the post office had to charge me more to pick it up since it was sent in the wrong king of packaging, but as far as the product itself it's exactly what I'd recommend for hydrating leather.